by Mephitis
---
My tail thumped the ground. Oh, crap, I thought, I must have left my spell book at Cissy's. Deep breath. It's ok; the protection spells make it appear as a cookbook to non-brethren.
"Hi Cissy, this is Naomi," I said into my phone chewing on my lower lip. "Did I leave a large blue book at your house last night?"
"Yeah, Namoi, you did. I was feeling domestic and thought I'd bake a pie from it. You can have a slice when you pick it up."
I gulped. "What are you baking?" Please, please, be making cookies.
"The  three layer apple pie sounded interesting."
I collapsed onto my couch. An entire book of recipes and that squirrel had to pick that one. "Did you follow it exactly?"
"Sort of. It had a strange ingredient list; I had to go buy some stuff. Didn't find everything."
I released a deep breath. She was seeing more than she should, but still, it should be ok. I'd just go to Cissy's, enjoy pie and coffee, and get my book back.
"Oh, yeah, I did put nuts in the bottom layer. I am a squirrel after all; I really like nuts. My mother always put nuts in her apple pie."
I choked, hard. It took a moment before I could talk again.
"Are you ok?" Cissy said.
Croaking, I responded, "Yes. Yes, something just caught in my throat." How had she added that missing ingredient? But it was still just a pie recipe.
"The last time I made it, I put lots of slits in the top crust.  It needs lots of slits."  Not really, but I didn't know to ask about the top crust any other way.
"I never make two crust pies," Cissy said. "I made grandmother's crumb topping. That tastes much better."
I held my phone at arm's reach, and stared at it, my arm fur trembling.
"Naomi? Are you still there?"
"Yeah, yeah, Cissy, I'm still here.  Um… did you put cinnamon in that topping?"  I held the phone in both paws, mouthing say no, say no, say no.
"Of course, that makes it extra yummy.  My entire house smells of applely cinnamon goodness right now.  It's almost done."
Shit! Not cinnamon, too.  "Cissy, turn off the oven. And do not open the oven door.  Do not open the oven door."
"But I have to. My oven door doesn't have a window."
"No! Don't do it. No!"
I heard a loud scream that was suddenly cut off. Shit, she had opened the oven door.
I sprinted out my door, dialing my best friend. "Julie, meet me at Cissy's. We've got a major problem."
"I'm busy at work now. I get off at four."
"Now, Julie, now!" I screamed as I ran a red light, a skidding truck missing my bumper by inches. "I forgot my spell book there, she baked a pie from it, and unknowingly opened a portal to the third level of hell."
* * *
---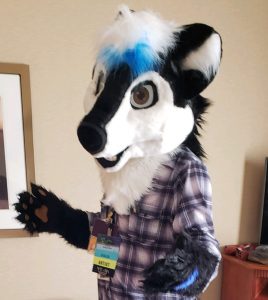 About the Author
Mephitis is a grey muzzle skunk who first encountered the furry fandom in 2000.  Since then he has attended many cons in the southeastern US. His skunk fursuit head sports a blue tuff to capture the punk era he never participated in.  He has a huge skunk collection of plushies, figurines, and everything else you can make skunks from.
Previous published work includes stories in ROAR 11, Crossed Genres, nthZine, and
Bewildering Stories. In additions, he has written three academic books and numerous journal articles that he had to create as part of the monetary acquisition process to support con-going.